Amazing landscaping and yard design professionals
Landscaping is an excellent way to increase the value of your living space. Besides, it offers an outdoor space to relax after a tiring day and have fun with your family on cold winter nights.
There could be endless options when it comes to landscaping, from fire pits to pool and multiple grass designs – you name it!
Our network of custom home building professionals know all the latest design techniques to turn your land into the most charming yard you've ever seen.
Our skilled custom home builders know the nitty-gritty of utilizing the yard space and re-defining it with new and unique decorations.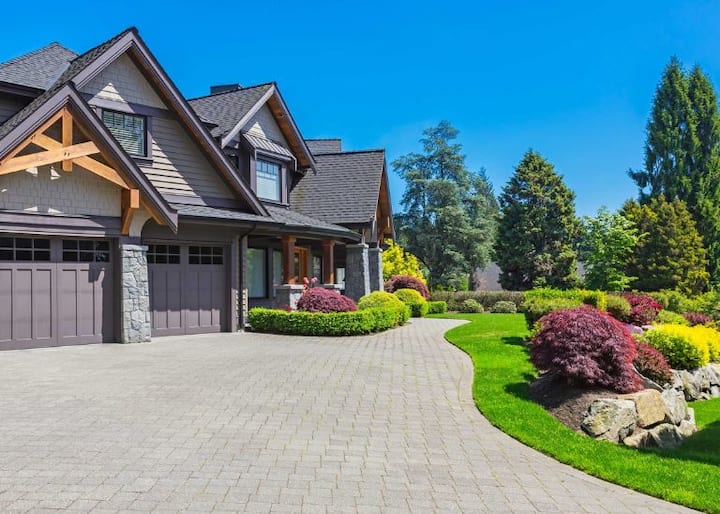 Get in Touch With Us
No custom yard or landscaping design ideas you have for your property is too big or too small for our experienced team!
Hardscaping, firepits, grass design
Hardscaping refers to all the non-living features in your landscape including a stone wall, brick patio, wooden arbor, and more. Additionally, they also define space utilization with a driveway or by leading visitors through gravel paths.
Gone are the days when yards were placing a few chairs on the grassy area and sitting with your family.
Our skilled architects make your landscape attractive and safe by introducing various elements into it. Flagstone patios, stone walkways, metal fences, stone landscape steps, wooden decks, pergolas, and the list goes on.
Our network of custom home building professionals goal is not just to offer a comfortable, engaging, and exciting landscape to enjoy sitting in with your friends and family. We aim to enhance your property's value by making it distinct and one-of-a-kind.
Our network of custom home building professionals also share our opinions regarding plants and flowers that can complement the overall look of your landscape. There's no denying that lush green plants and sweet-smelling flowers make your backyard even more beautiful.
Our team understands every aspect of a perfect looking landscape and introduces elements accordingly.
Your yard should be built to blend with your home's overall design and theme, and our builders precisely know what goes well with what.
Working on hardscape projects takes a lot of hard and smart work, but the results are inspiring.
Think of a feature you want to incorporate in your landscape, and we design the exact structures for you. Our experts are also familiar with the art of introducing water features like stone fountains, clay pot fountains, and ceramic foundations.
What's more, you can also make your happy place even more incredible by adding a stone fire pit. Like the flame attracts moths, a fire pit will draw your friends, family, and guests alike.
It offers a perfect way to get all warm and cozy in the winters, enjoy drinks and food and share a moment of joy with your beloved ones.
But wait, there isn't a single way to construct a fire pit. The most popular options include:
Lava rock fire pit
Granite rectangular pit
Desert modern
Colored grass
Camp style fire pit
Indiana limestone
Boise Paver
Lava rock
However, the options aren't limited to these. If you have a unique idea in your head, be open to sharing it with our network of custom home building professionals. They'll design one per your requirements and make your backyard a perfect gathering space.